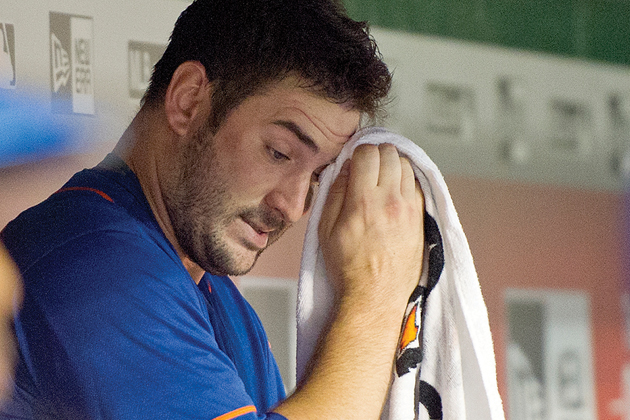 As the baseball season comes to a close, many New York Mets fans like me have found themselves in an unfamiliar position. Unlike in so many years past, our beloved team is in first place by a relatively healthy margin and seems all but certain to make the playoffs. That said, there are still a few weeks left to play and this is a team that is notorious for late-season collapses, so odds are decent that, by the time you read this, they will have already imploded. But, for now, there is still hope.
Of course, in typical Mets fashion, the season has not gone without incident. In recent weeks, controversy has sprung up surrounding the team's star pitcher, Matt Harvey.
At 26 years old, Harvey has already established himself as one of the best pitchers in baseball and an anchor of the team's rotation, possibly for years to come. Last season, however, he was sidelined after tearing a ligament in his right elbow and undergoing what is commonly known as Tommy John surgery, in which the torn ligament is replaced with a tendon from elsewhere in the body. It is a fairly common procedure for pitchers, but does require a full year of rehabilitation before the player can return to the field.
This has been his first year back, and his stellar performance has helped turn the Mets into a playoff contender. So it was surprising that, with just over a month to go in the regular season, Harvey's agent, Scott Boras, suddenly expressed concern that the team was planning to allow his client to pitch through the end of the season and into the post-season to try to secure a championship. Citing the advice of Harvey's surgeon, Boras was worried that his player would risk injuring his arm again if he did not stop pitching at a certain point. After some ugly media bickering with management and widespread fan angst, they appear to have reached a compromise. Harvey intends to pitch in the playoffs, and the team plans to limit his workload as much as possible.
Both sides have valid concerns. Harvey is coming off serious surgery and is at a higher risk for another injury. This time, that could spell the end of his entire career. Further, he makes about $600,000 a year now as part of his rookie contract, but at his current level of performance, he could stand to make $20 million or more annually when he becomes a free agent in 2019. Obviously, he has a lot to lose.
The Mets have been willing to go easy on Harvey this year, but their goal is to win games and maybe even a World Series, which would increase the franchise's value, both now and in the future. To accomplish that, they need star players like Matt Harvey.
This situation is not without precedent. In 2012, their division rival Washington Nationals faced the same decision regarding young phenom Stephen Strasburg, who was also in his first year back from Tommy John surgery. Despite the fact that they, too, were playoff bound, the team chose to bench Strasburg before the end of the year to protect their investment. Without their star pitcher, the Nationals lost in the first round of the playoffs, but Strasburg has returned to the field every year since.
This dilemma exemplifies one of the many risk management decisions all businesses must face: Are you willing to sacrifice your current assets and the potential for long-term success in order to achieve immediate gains? The answer often depends on more than just financial considerations­—it requires a careful balancing of an organization's strategic goals, risk appetite and corporate values. And success is never guaranteed. After all, the Nationals played it safe but are still without a championship. In the end, every organization must decide for themselves if it is really about whether you or win or lose, or how you play the game.